ROAD TEST:
HIGH PERFORMANCE MUSTANG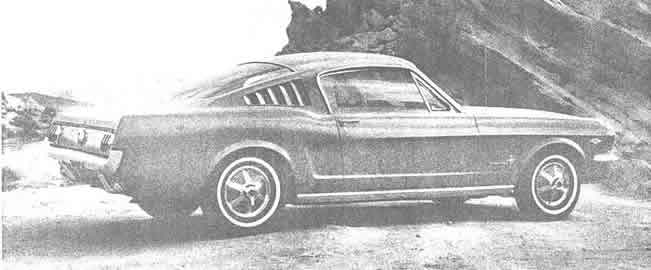 Likening the Ford-produced automobile to its purposeful namesake is pretty easy to do, particularly where the High Performance Mustang version is concerned. The attributes of the muscle and bone mustang would seem to be those of the steel and rubber Mustang. It's the sort of car a man can become attached to, although he probably won't feel quite as romantic about it as The Cowboy does about His Horse.
The HP Mustang is specified here because of its obvious superiority to the more mundane everyday Mustang. Where the latter has a style and a flair of design that promises a road-hugging sort of performance, and then falls slightly short of this self-established goal, the HP Mustang backs up its looks in spades. It promises, it delivers, and for good measure it does even more than one could reasonably expect.
The editors had the opportunity of trying one of the first production-line HP Mustangs and it was a delightful experience to all who drove the car. We put it through our usual paces (see data panel) and added a few hi-jinks just for fun. We took it up and down our favorite mountain road, where it acquitted itself with vigor and nobility, and we took it on some high-speed desert highway runs; then we just pottered around town, commuting through traffic to and from our offices and battling the freeway tides.
For a high-performance sort of car it is unusually versatile;
it accepts without fuss any treatment outside of fourth-gear starts. It is docile enough for 2-gear (second and fourth) driving, yet it is fierce enough to achieve under-16-sec. quarter-mile bursts of acceleration and stable enough to challenge and master that twisting mountain road. And in 1500 miles of this now-torturous, now-easy testing, we uncovered only one weakness of structure, a faulty clutch disc spring.
To cope with the power from the HP 289 V-8, Ford equips the Mustang with a 10.40-in. heavy-duty clutch disc and semi-centrifugal cover assembly. This latter makes the clutch grip harder as rpm increase, but also tends to raise the pedal pressure needed to release the clutch at high engine rpm. A weak spring in the test Mustang caused incomplete release of the disc and consequent "hanging up" of the gears when rapid shifts were attempted. This condition was worsened when the clutch release actuating rod became kinked, and finally the clutch would not release at all. Some quide Service at our friendly local HP dealer (Shelly-American. Inc.) put the car back onto the road, the problem apparently cured by the replacement of the spring and the rod.

The key component in the transformation of the ordinary Mustang to one suiting the HP label is the power plant. Where the standard engine is an in-line ohv 6 cyl. of 200 cu. in. and 120 bhp (formerly 170 cu. in. and 101 bhp). Ford offers optional V-8 power at 289 cu. in./200 bhp, 289/225 and 289/271 (with another 260-164 discontinued) levels. Obviously, horsepower increases, performance rises accordingly. So, the 289-cu. in./271-bhp unit is going to give the highest performance and thus this is the "HP" unit. Since the time this appeared, however, special Shelby Mustangs called GT-350s have gone into production and blurred that distinction, but they are relatively limited in availability.
There's more than just a label here, of course, as this 271-bhp engine is basically identical to the ones which powered the potent little AC Cobras (before the 1963 racing season) and the HP Fairlanes. More than just higher compression (10.5:1 vs. 9.00:1), these are HP engines from crankshaft to carburetor. Cranks, bearings, rods and pistons are all tougher, more durable design and material, the camshaft is of much "wilder" specification, lifting valves higher and leaving them open longer (306°) for optimum breathing at high rpm, the heads have more open ports and the carburetor, a single 4-throat Holley unit, has larger barrels and somewhat richer jetting than would be used in the normal 4-barrel unit.
These improvements over the standard sort of V-8 are aimed at giving the HP-289 a whole new area of operation over 5000 rpm, where the other engines are flat out from gasping for air. Indeed, we found the optimum shift points for the HP Mustang to be 6500 rpm, where a 289/225 tested earlier had to be shifted at 4800 rpm. In testing the Cobra at one time, however, we found that it could be shifted happily at an even higher point (6800-7000 rpm) because of a more "open" exhaust system from which the HP Mustang could benefit, too.
Straight-line acceleration is not the forte of this engine/ axle combination, however. The test car had 3.89:1 differential gears, which were just a little too low (numerically) for good drag racing acceleration (4.11s or 4.56s are available) and a little too high for ground-gulping road-running. The Mustang option list Includes a set of 3.50:1 gears and these, we feel, would give the car a little more room to stretch out in. With the 3.89s the car just barely pulls 6500 rpm, which works out at 120 mph top speed. With 3.50s, the mph/1000 ratio would increase from 18.5 to 20.5 whereas with 4.1Is it would drop to 17.5 (with the same tires
The transmission is Ford's new-last-year 4-speed synchromesh unit, which replaced the Warner Gear T-10 box formerly in Ford products] The newer unit. has extremely good gear spacing, 8.32:1 working out well as a starting gear, 1.69:1 being in about the right range to use for tight cornering, and 1.28:1 making a fine passing gear. The balk-ring synchros make shifting sure arid easy.
- The other part of the high-performance label applies to the suspension, where the Mustang achieves a notable level of cornering and directional stability. Again, standard components are replaced with units of sturdier specifications. Front and rear roll rates are increased with stiffer springs while shock absorbers are recalibrated to provide a firmer damping of spring action. Briefly, the specifications are thus:
HP Normal
Anti-roll bar dia., in. 0.840 0.690 Roll rate, ft. Ib., front 438 308
rear 340 260 Spring rate, rear, Ib./in. 110 65 Spring jounce, front 230 130
rear 230 140 Spring rebound, front 320 160
rear 370 210 Shock absorbers, cycles/min. 170 n.a.
stroke, in. 3.00 n.a.
The effect of this stiffening is to increase the resistance to body roll during cornering, thus keeping the tires at more desirable angles of contact with the pavement. Although this does nothing to improve the hefty forward weight bias (56%), it does help combat the strong understeer such a situation creates. Coupled with the ultra-low profile, wide-tread Firestone Super Sport 5.90-15 racing tires, the result is a fine-handling car capable of sticking to any highway at any speed it can attain.
(It should be noted that shortly after our test was made, the company quietly dropped the Firestone tire option and offered instead the U. S. Royal 800 tire with dual red-striped sidewalk. Handling characteristics with the new tires probably are affected only mildly since the same 6-in. rims are used.)
The understeer is still strong and particularly resists any turning of the car off a straight line at low speeds, where the optional manual steering ratio of 21.0 3.5 turns, lock to lock, adds to the muscle-power required. But once a good drifting turn is started, the car's attitude can be controlled with the throttle and most corners can be accomplished in spectacular fashion. At about 80-85 mph the car achieves a "neutral steer" in fast cornering and it is at about this speed that true 4-wheel drifts can be developed.
Heavy-duty brakes unfortunately are not included in the High Performance package and at the time of the test there were no options available except for a power booster. However, the Mustang now has a disc brake system option to fill such a glaring void. The HP Mustang tested had the same brakes as all other V-8 Mustangs and the results of our stopping tests were about the same: Barely adequate for normal use but too quick to fade for safe high-speed stopping.
The actual body/frame structure of the HP version is the same as other production Mustangs and as such continues the low-priced bargain concept. Indeed, while the HP packages (the stiff er suspension can be purchased with any engine) add upwards of $450 onto the base price of the car, it is still possible to get a rip-snorting, big-muscled go-pony for right around $3000 a real bargain in performance.
It's all the more a bargain because the same sportive interior appointments the full carpets and color-matched vinyl upholstering remain in the car.
We can only add that this is the sort of Mustang that Ford ought to build more of; it has the guts of its namesake, the looks of a thoroughbred and the fleetness of a Native Dancer. It's been some time since we enjoyed doing a road test so much; in the words of another, non-automotive (Ol' Ern') Ford, "It was rode hard and put away wet."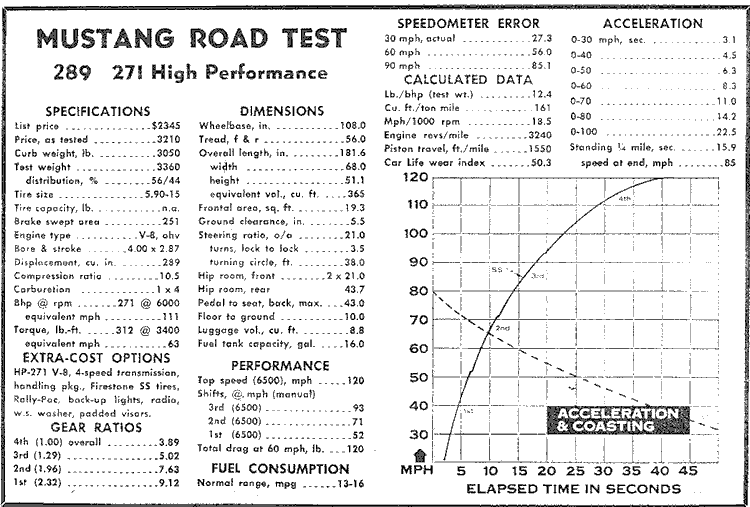 Tests courtesy of "Mustang A Complete Guide a Car Life special Edition", printed 1965